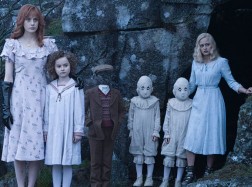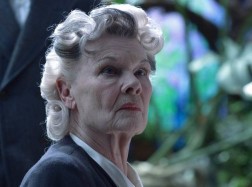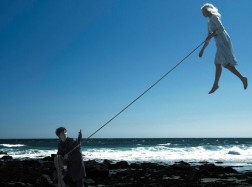 Miss Peregrine's Home for Peculiar Children, 2016, ZDA, Belgija, Velika Britanija


Režija: Tim Burton
Jezik: angleški

Igrajo: Eva Green, Ella Purnell, Samuel L. Jackson, Asa Butterfield, Allison Janney, Judi Dench, Chris O'Dowd, Milo Parker, Rupert Everett, Ella Wahlestedt

domišljijska pustolovščina, 2h7min



3.11.2016 ob 18.00
4.11.2016 ob 20.00
5.11.2016 ob 20.00
6.11.2016 ob 18.00





Nepozabna filmska dogodivščina izpod režijske taktirke vizionarskega ustvarjalca Tima Burtona po istoimenski knjižni uspešnici pripoveduje o malem Jaku, ki odkrije ključ do skrivnosti, ki se razteza prek alternativnih resničnosti in skozi čas, pri tem pa razkrije skrivno zavetje, Dom gospodične Peregrine za nenavadne otroke. Ob spoznavanju prebivalcev doma in njihovih nenavadnih sposobnosti Jake dojame, da je varnost zgolj utvara in da nevarnosti preži v obliki mogočnih in skritih sovražnikov. Dognati mora, kdo je resničen, komu velja zaupati in kdo je v resnici on sam.

Dom gospodične Peregrine za nenavadne otroke ponuja bogate domišljijske podobe, ki gledalca potegnejo vase, bitke epskih razsežnosti in edinstvene manipulacije, ki jih omogoča potovanje skozi čas – vse to pa oživlja mojster Tim Burton v velikopoteznem duhu svojih filmov Edward Šarjeroki, Alice v čudežni deželi, Nočna mora pred božičem in Čarli in tovarna čokolade.

Film je nastal na podlagi romana prvenca Ransoma Higgsa, ki je več let ostal na seznamu najbolje prodajanih knjig in so ga prodali v prek 3,1 milijona izvodov. Sledili sta nadaljevanji Hollow City in Library of Souls. Riggs je zamisel za zgodbo dobil, ko je na bolšjih sejmih zbiral stare fotografije – bolj je bila nenavadna, bolj mu je bila všeč. Takrat je kot svobodnjak pisal za založbo Quirk Books (ki je izdala uspešnico Pride, Prejudice and Zombies) in je lepega dne nekaj fotografij poslal v uredništvo, češ, morda bi se iz njih dalo sestaviti sijajno slikanico. A založba se je domislila, da bi fotografije lahko uporabil za osnovo romana. »Dobil sem zamisel za zgodbo, in fotografije so služile kot osnova za like,« pravi pisatelj. »Na primer fotografija fantiča, prekritega s čebelami. Spraševal sem se, Kdo je ta deček? Kakšna je njegova zgodba?«

Roman je v scenarij prelila Jane Goldman. Producirala sta Peter Chernin in Jenno Topping. Igrajo Eva Green, Asa Butterfield, Chris O'Dowd, Allison Janney, Rupert Everett, Terence Stamp, Ella Purnell, Judi Dench in Samuel L. Jackson. Izza kamer so sodelovali še direktor fotografije Bruno Delbonnel, kostumografinja Colleen Atwood in scenograf Gavin Bocquet. Glasbo sta zložila Michael Higham in Matthew Margeson.

O igralcih

Eva Green (gdč. Peregrine) je debitirala v Bertoluccijevem The Dreamers, trenutno jo gledamo v zadnji sezoni serije Penny Dreadful. Pred tem smo jo videli v Arakijevem White Bird in a Blizzard, v The Salvation, 300: Rise of an Empire, Sin City: A Dame to Kill For, Dark Shadows, v bondiadi Casino Royale, Perfect Sense, Cracks, Womb in Franklyn. Njen prvi hollywoodski film je bil Kingdom of Heaven Ridleya Scotta, nadaljevala je v His Dark Materials: The Golden Compass in v francoskem Arsene Lupin. Na TV se je v spomin najbolj vtisnila z vlogo v miniseriji Camelot.

Samuel L. Jackson (Baron) je v ameriškem filmu brez dvoma največji pečat pustil v Tarantinovem Pulp Fiction (bafta, nominaciji za oskarja in zlati globus); s Tarantinom je nazadnje sodeloval pri vesternu The Hateful Eight, vmes še pri Django Unchained. V kina pa prihaja v Kong: Skull Island in The Hitman's Bodyguard ob Ryanu Reynoldsu in Garyju Oldmanu. Nedavno smo ga videli v Chiraq Spikea Leeja in v The Legend of Tarzan, pred tem v Kingsman: The Secret Service, v franšizi The Avengers, v RoboCop, Oldboy, Iron Man 2, Lakeview Terrace, Soul Men, Jumper, Black Snake Moan, Snakes on a Plane, v franšizi Star Wars, v The Incredibles, S.W.A.T, Changing Lanes, Cavemans Valentine, Rules of Engagement, Shaft, The Red Violin, Jackie Brown, 187, A Time to Kill, Die Hard with a Vengeance, Jungle Fever, The Long Kiss Goodnight, Ragtime, Sea of Love, Coming to America, Do the Right Thing, Mo Better Blues, Goodfellas, Patriot Games, True Romance… Za TV je izvršno produciral risano serijo Afro Samurai (nominacija za emmyja) in po njej ustvaril tudi video igrico ter igral v TV filmih The Sunset Limited in z emmyjem nagrajenem Against the Wall (sam se je z vlogo potegoval za zlati globus).

Allison Janney (dr. Golan) igra v humoristični nanizanki Mom in v biografski nadaljevanki a Masters of Sex – za obe vlogi je isto leto prejela emmyja, za Mom je kipec osvojila tudi naslednje leto in ima tako skupno že sedem emmyjev. Nedavno je zaključila snemanje celovečercev Tallulahin Girl on the Train, posodila je glas liku v risanki Minions in igrala v komediji Spy. Pred tem smo jo videli (ali slišali) v The Duff, Mr. Peabody and Sherman, The Way, Way Back, The Help, Juno, Hairspray, Life During Wartime, trangers with Candy, Over the Hedge, Finding Nemo, The Hours, American Beauty, Nurse Betty, 10 Things I Hate About You, Primary Colors, The Object of My Affection, Big Night… Na TV je prepričala v seriji The West Wing (z vlogo si je prislužila kar štiri emmyje in štiri nagrade Ceha filmskih igralcev).

Judi Dench (gdč. Avocet), je začela v gledališču in si v dolgi in bogati gledališki, filmski in televizijski karieri prislužila oskarja, deset baft in rekordnih osem nagrad Laurencea Olivierja. Nosi tudi naziv Dame Britanskega imperija in ima več drugih mednarodnih priznanj. Nazadnje je igrala v BBC-jevi trilogiji The Hollow Crown in na velika platna prihaja v Tulip Fever v režiji Justina Chadwicka, sicer pa je svoj pečat pustila v filmih, kot so bondiade od Goldeneye do Skyfall, Mrs Brown (bafta in zlati globus, nominacija za oskarja), Shakespeare In Love (oskar, bafta); za oskarja se je potegovala v Chocolat, Iris (tudi bafta), Mrs Henderson Presents, Notes on a Scandal in Philomena; igrala je v The Best Exotic Marigold Hotel in The Second Best Exotic Marigold Hotel, v Esio Trot, Tea With Mussolini, A Room With a View in A Handful of Dust (obakrat bafta), v 84 Charing Cross Road, Henry V, Hamlet, Nine, Jane Eyre, My Week with Marilyn, J. Edgar… Na TV je navdušila v filmu The Last of the Blonde Bombshell, v serijah As Time Goes By, Cranford in Cranford: Return to Cranford.

O ustvarjalcih

Tim Burton (režija) je s svojim nedavnim celovečercem Big Eyes združil obe svoji strasti – do filma in slikarske umetnosti, sicer pa je njegov največji doprinos filmski umetnosti sami bržkone novi zagon industrije tako imenovane »stop-motion« animacije, začenši s kultno klasiko The Nightmare Before Christmas, ki sta ji sledila Corpse Bride in Frankenweenie (oba sta se potegovala za oskarja in bafto). Produciral je tudi James and the Giant Peach in 9. Med ostalimi njegovimi presežki velja vsekakor omeniti igrane Alice in Wonderland (dva oskarja za film), Sweeney Todd: The Demon Barber of Fleet Street (zlati globus za film), Big Fish (nominacija za bafto za režijo) in njegova kritiško najbolj opevana mojstrovina Ed Wood (nominacije za dva oskarja, zlati globus in dve bafti). Že z režijskim prvencem, nepričakovano uspešnico Pee-wee's Big Adventure si je prislužil kultne privržence, ki so se navduševali tudi nad divje domiselno komedijo Beetlejuice ter akcijskima Batman in Batman Returns, vsekakor pa za njegov najbolj priljubljeni film velja romantična domišljijska drama Edward Scissorhands, pri kateri je začel sodelovati z Johnnyjem Deppom. Režiral je tudi Dark Shadows, Charlie and the Chocolate Factory, Sleepy Hollow, Planet of the Apes in Mars Attacks!, produciral pa Alice Through the Looking Glass, Abraham Lincoln: Vampire Hunter, Cabin Boy, Batman Forever in dva glasbena video spota za skupino The Killers.Svojo strast do umetnosti je zlil na strani zajetne knjige The Art of Tim Burton, razstavljal je v Muzeju sodobne umetnosti v New Yorku in z razstavo gostoval tudi v Melbournu, Torontu, Los Angelesu, Parizu in Seulu, z nekoliko okleščeno pa še v Pragi, Tokiu, Osaki in São Paulu. Izdal je ilustrirano serijo poezije The Melancholy Death of Oyster Boy & Other Stories in zbirko svojih risb na prtičke Things You Think About in a Bar. Na začetku kariere je posnel »stop-motion« risanko Vincent, kratki film po motivih pravljice Janko in Metka ter kratki igrani film Frankenweenie.

Jane Goldman (scenarij) je kariero začela kot novinarka pri tisku (med drugim je pisala za The Times, Cosmopolitan, Smash Hits in revijo za računalniške igrice Zero), nato pa je spisala štiri neleposlovne knjige za mladino, roman Dreamworld in vrsto neleposlovnih uspešnic in serijo knjig The X-Files Book of the Unexplained. Udinjala se je tudi na TV, kot voditeljica, producentka in avtorica komičnih oddaj. S scenarijem za celovečerce se je prvič spopadla kot soavtorica filma Stardust po romanu Neila Gaimana, sledili so Kick-Ass po stripu, srhljivka The Debt, X-Men: First Class, The Woman in Black po romanu Susan Hill ter Kingsman: The Secret Service in Kingsman: The Golden Circle, ki pride na velika platna prihodnje leto.