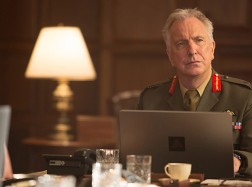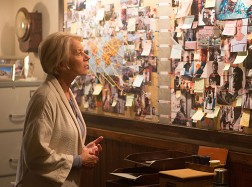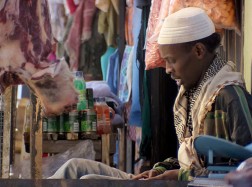 Eye in the Sky, 2016, Velika Britanija


Režija: Gavin Hood
Jezik: angleški

Igrajo: Helen Mirren, Aaron Paul, Alan Rickman, Barkhad Abdi, Jeremy Northam, Iain Glen, Phoebe Fox

vojna drama, 1h42min



18.5.2016 ob 21.00
19.5.2016 ob 19.00
21.5.2016 ob 21.00
22.5.2016 ob 19.00
24.5.2016 ob 19.00





Polkovnica Katherine Powell (oskarjevka Helen Mirren) po šestih letih iskanja britanske državljanke, ki je postala teroristka, s pomočjo tehnološko visoko razvitega ameriškega brezpilotnega letala svojo tarčo naposled najde v Keniji. Posebne enote se že bližajo tarči, a razkritje načrtov za dva neizbežna samomorilska bombna napada spremeni njihovo misijo – tarčo morajo ubiti. Pilot (dobitnik emmyja Aaron Paul), ki na daljavo iz Las Vegasa usmerja letalo, se ravno pripravlja, da sproži smrtonosni izstrelek, ko v bližini zaznajo devetletno deklico. Situacija zaneti mednarodno razpravo oseb na najvišjih položajih o tem, ali je ohranitev življenja enega otroka vredno gotove smrti stotine drugih. Medtem lokalni operativec (nominiranec za oskarja Barkhad Abdi) tvega vse, da dekletce spravi na varno.

Srhljivka, ob kateri si boste od napetosti grizli nohte, se dogaja domala v resničnem času prek štirih celin in se brez olepševanj spopada z etičnimi dilemami sodobnega vojskovanja. Z mednarodno igralsko zasedbo, v kateri so še Alan Rickman, Jeremy Northam, Iain Glen in Phoebe Fox, film spretno raziskuje politično, zakonsko in moralno minsko polje, v kateri sleherna odločitev postane visoka cena.

Po scenariju Guya Hibberta je režiral Gavin Hood, izza kamer sta sodelovala še direktor fotografije Haris Zambarloukos in scenograf Johnny Breedt. Glasbo sta zložila Paul Hepker in Mark Kilian, producirali pa so Ged Doherty, Colin Firth in David Lancaster.

Po politični srhljivki Rendition režiser Gavin Hood ponovno raziskuje področje sodobnega vojskovanja, tokrat praktično uporabo in moralne posledice vojskovanja z brezpilotnimi letali. »Zavedal sem se različnih vidikov vojskovanja z brezpilotniki,« pravi Hood, »saj sem posnel že Rendition o ameriških vojnih pustolovščinah. Prebral sem morje člankov, mnenj in knjig. Vedno sem skušal biti na tekočem s tem, kaj se dogaja v Ameriški vojski, vendar se nisem tako zelo poglabljal konkretno v vprašanje usmrtitev tarč na daljavo.«

Priložnost, da razišče to skrajno sporno obliko vojskovanja, je dobil, ko je prebral scenarij Guya Hibberta, ki ga je navdihnil obisk sejma orožja v Parizu. »Povsod so bili droni, brezpilotna letala,« se spominja scenarist. »Sleherni izdelovalec orožja je prinesel svoj najnovejši izdelek. Pogovarjal sem se z vojsko in izvedel, da glede te oblike vojskovanja sploh še ni bilo javne razprave. Zaskrbljujoče se jim je zdelo predvsem to, da se pri običajnem vojskovanju poveljnik odloča na licu mesta in v tistem trenutku. Pri vojskovanju z droni ni tako – kar se mi je zdelo odlično izhodišče za film.«

Do zapleta v zgodbi pride v Nairobiju v Keniji, kjer dobijo ameriški in britanski vojaški poveljniki priložnost, da na daljavo usmrtijo poglavitno teroristično tarčo, Susan Danford, znano tudi pod imenom Ayesha al-Hady, angleško spreobrnjenko in teroristko skupine al-Shabab na visokem položaju. Nato se pripoved osredotoči na osebe, ki morajo na terenu izslediti tarčo ter osebje v Keniji, v Veliki Britaniji in ZDA, med katerimi so tudi vojaške in politične osebnosti na visokih položajih, pilot drona in njegovo moštvo. Skupaj tvorijo »verigo za uboj«, ustroj za napad, ki usklajuje identifikacijo tarče in posebno enoto, ki bo tarčo odstranila. Tu so tudi vsi, ki razpravljajo in dajejo ukaze za napad, in vsi, ki so na koncu odgovorni za njeno uničenje. »V vojski temu pravijo veriga za uboj, kar pa prinaša veliko pomembnih vprašanj,« pravi Hibbert. »Kdo ima moč, da sprejme odločitev in pritisne na gumb? So to politiki, je to general v Londonu ali general v ZDA, ali pa poveljnik v Keniji? V naši zgodbi so v igri življenja enega Kenijca, dveh Britancev in enega Američana. Kdo torej sprejme odločitev?«

Pri tem zadeve zapletejo še morebitne nenamerne žrtve, kar je spet treba preceniti kar na daljavo in kar ima velik vpliv na vojno propagando. »Rekel bi, da se naš film sprašuje, ali ob uporabi takšnih sredstev zares zmagujemo,« razpreda režiser Hook. »Kdaj velja uporabiti to tehnologijo? Kakšne so posledice njene uporabe? Poglejte si film in se odločite sami.«

O igralcih

Helen Mirren (polkovnica Katherine Powell) se je z vlogo Sofie Tolstoj v drami The Last Stationpotegovala za oskarja in zlati globus. Za upodobitev kraljice Elizabete II v The Queen je prejela oskarja, zlati globus, bafto in nagrado Ceha filmskih igralcev; za dosežke na igralskem področju je prejela tudi posebno bafto. Nedavno smo jo videli kot zloglasno Heddo Hopper v drami Trumbo, v Woman in Gold, The Hundred-Foot Journey in v TV filmu Phil Spector, ki ji je prinesla nominaciji za emmyja in zlati globus. Pred tem je posodila glas liku v risanki Monsters University in igrala v celovečercih RED 2, Hitchcock (nominaciji za zlati globus in nagrado Ceha filmskih igralcev), The Debt in v The Door madžarskega režiserja Istvána Szabója, v Red, The Debt, Arthur, Bright Rock, The Madness of King George (prva nominacija za oskarja, nagrada v Cannesu), Gosford Park (še ena nominacija za oskarja, pa za bafto, zlati globus in nagrado Ceha filmskih igralcev), Calendar Girls, The Clearing, Shadowboxer, State of Play, The Tempest, Brighton Rock… Filmsko kariero je začela v Age of Consent in The Long Good Friday, potem pa v desetih letih posnela vrsto raznolikih filmov (Excalibur, Cal, The Mosquito Coast, The Cook, The Thief, His Wife, and Her Lover in Where Angels Fear To Tread…), a je od vsega začetka je predana gledališču – začela je kot Kleopatra – kamor se kot kraljica Elizabeta II. vrnila v The Audience. Na TV je med drugim za glavno vlogo v seriji Prime Suspect osvojila zlati globus, več emmyjev in baft. Emmyja, zlati globus in nagrado Ceha filmskih igralcev je dobila tudi za vlogo kraljice Elizabete I. v miniseriji Elizabeth I in se za taiste nagrade potegovala v TV filmih Losing Chase, The Passion of Ayn Rand, Door to Door inThe Roman Spring of Mrs. Stone. Od leta 2003 je Dama Britanskega imperija.

Aaron Paul (Steve Watts) je ob Bryanu Cranstonu pet sezon igral v kritiško priznani in nagrajevani nadaljevanki Breaking Bad in se z vlogo petkrat potegoval za emmyja (dobil je tri) in enkrat za zlati globus. Kmalu ga bomo ob Kate Winslet videli v Triple 9 Johna Hillcoata, v Fathers and Daughters ob Jane Fonda in Russellu Crowu in v The 9th Life of Louis Drax ob Jamieju Dornanu. Trenutno snema serijo The Path, končal je snemanje drame Come & Find Me Zacha Whedona in Central Intelligence, v katerem igra ob Kevinu Hartu in Dwaynu Johnsonu. Videli smo ga v svetopisemskem Exodus: Gods & Kings, v Hellion, ki ga je tudi izvršno produciral, v Chaumeilovem A Long Way Down po romanu Nicka Hornsbyja, v Need for Speed po priljubljeni video igrici, v Smashed in v Mission: Impossible III ob Tomu Cruisu.

Alan Rickman (general Frank Benson) je debitiral v srhljivki Die Hard in se gledalcem priljubil v franšizi Harry Potter ter v celovečercih Lee Daniels' The Butler, A Promise, CBGB, Gambit, Alice in Wonderland, Sweeney Todd: The Demon Barber of Fleet Street, Snow Cake, Bottle Shock, Nobel Son, The Hitchhiker's Guide to the Galaxy, Perfume: The Story of a Murderer, Love Actually, Play, Blow Dry, Galaxy Quest, Dogma, Dark Harbor, Judas Kiss, Robin Hood: Prince of Thieves (za vlogo šerifa je prejel bafto), Sense and Sensibility, Michael Collins, Truly, Madly, Deeply, An Awfully Big Adventure, Bob Roberts, Mesmer, Close My Eyes (nagrada časnika Evening Standard) Quigley Down Under, Closet Land in The January Man. Vlogo Modre gosenice iz Burtonove Alice v čudežni deželi je ponovil tudi v prihajajočem nadaljevanju Alice in Wonderland: Through the Looking Glass Jamesa Bobina, nedavno pa smo videli njegov drugi – in zadnji – režijski poskus A Little Chaos s Kate Winslet in Stanleyjem Tuccijem. Njegov režijski prvenec je bila priredba gledališke igre The Winter Guest z Emmo Thompson in Phyllido Law, ki je prejela več nagrad. Sicer priznani in zdaj pokojni gledališki igralec je več gledaliških postavitev tudi režiral, na tv pa je ob Emmi Thompson igral v priredbi pesnitve The Song of Lunch, v TV filmih in serijah Rasputin (emmy, zlati globus, nagrada Ceha filmskih igralcev), Something the Lord Made (nominacija za emmyja), Fallen Angels, Revolutionary Witness, Screenplay: The Spirit of Man, Theatre Night: Benefactors, Busted, The Barchester Chronicles, Thérèse Raquin in Romeo and Juliet.

Barkhad Abdi (Jama Farah) je nazadnje igral ob Sachi Baronu Cohenu v komediji The Brothers Grimsby z Louisom Leterrierjem in v Extortion ob Dannyju Gloverju. V Somaliji rojeni in v Jemnu odraščajoči Abdi se je pri štirinajstih z materjo preselil v Minnesotto, kjer je bil na odprti in naporni avdiciji izbran za vlogo somalijskega pirata v drami Captain Phillips s Tomom Hanksom v glavni vlogi; z vlogo je Abdi med drugim prejel bafto in se potegoval za oskarja, zlati globus in nagrado Ceha filmskih igralcev.

Jeremy Northam (Brian Woodale) je igral v filmih, kot so Tristram Shandy: A Cock and Bull Story, The Statement Normana Jewisona, The Singing Detective Keitha Gordona, Possession Neila LaButa, Gosford Park Roberta Altmana, Enigma Michaela Apteda, The Winslow Boy Davida Mameta. Gloria Sidneyja Lumeta, SpielbergovAmistad in Del Torov Mimic. Na velika platna prihaja ob Jeremyju Ironsu in Devu Patelu v The Man Who Knew Infinity in v Our Kind of Traitor v režiji Susanne White. Na TV igra v miniserijah New Worlds in White Heat ter v serijah Miami Medical, The Tudorsm, Agatha Christie: Poirot in prihajajoči The Crown. Kariero je začel na gledaliških odrih in na velikih platnih debitiral v Wuthering Heights Petra Kosminskija in nato igral v Carrington Christopherja Hamptona, The Net s Sandro Bullock in Emma ob Gwyneth Paltrow.

Iain Glen (zunanji minister James Willett) je najbolj znan po vlogi Joraha Mormonta v nadaljevanki Game of Thrones, nemalo priznanj pa je prejel tudi za vlogo v drami Silent Scream (srebrni lev v Berlinu). Videli smo ga v celovečercih Kick-Ass 2, The Iron Lady, Harry Brown, Kingdom of Heaven, Mountains of the Moon, Lara Croft: Tomb Raider, Gorillas in the Mist, Rosencrantz & Guildenstern Are Dead… in v serijah Downton Abbey, Dr. Who, Cleverman, Autopsy: The Last Hours Of, Breathless Prisoners Wives, Glasgow Kiss, Ripper Street… Na velika platna prihaja v Marquandovem Beautiful Devils in v Resident Evil: The Final Chapter.

Phoebe Fox (Carrie Gershon) je igrala v celovečercih The Woman in Black 2: Angel of Death, War Book in One Day, v miniseriji Life in Squares, v TV filmu A Poet in New York ter v serijah The Musketeers, New Tricks, Switch, Coming Up, Black Mirror in prihajajoči The Hollow Crown ob Benedictu Cumberbatchu in Judi Dench.

O ustvarjalcih

Gavin Hood (režija) je najbolj znan kot režiser in scenarist z oskarjem nagrajenega južnoafriškega filma Tsotsi po romanu priznanega dramskega ustvarjalca Athola Fugarda. Film se je potegoval tudi za zlati globus in bafto, zatem pa je Hood režiral Rendition z Reese Witherspoon in Meryl Streep, X-Men Origins: Wolverine in Ender's Game z Benom Kingsleyjem in Violo Davis. Hood je odraščal v igralski družini – starša sta se spoznala v gledališču – in je sprva igral v južnoafriških gledališčih in na TV. Po študiju scenaristike v Los Angelesu se je vrnil v JAR, kjer je za Ministrstvo za zdravstvo pisal in režiral vzgojne filme (za svoje delo je prejel južnoafriško TV nagrado artes) in nato posnel nizkoproračunski celovečerni prvenec A Reasonable Man.

Guy Hibbert (scenarij, izvršni producent) je za scenarije za TV filme No Child of Mine Petra Kosminskyja, Omagh Peta Travisa, Complicit z Davidom Oyelowom in Five Minutes of Heaven z Liamom Neesonom prejel bafte. S scenariji za The Russian Bride, Prime Suspect: The Scent of Darkness in May 33rd se je potegoval še za tri bafte. Sodeloval je tudi pri TV projektih Blood and Oil z Naomie Harris, One Child in prihajajočem A United Kingdom z Davidom Oyelowom in Rosamund Pike, piše pa še Arctic 30.