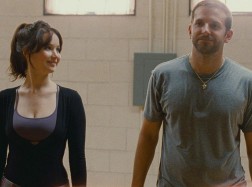 Silver Linings Playbook, 2012, ZDA


Režija: David O. Russell
Jezik: Angleški

Igrajo: Bradley Cooper, Jennifer Lawrence, Robert De Niro, Jacki Weaver, Anupam Kher, Chris Tucker

Ljubezenska drama, 2h2min



30.5.2013 ob 21.00
31.5.2013 ob 21.00
01.06.2013 ob 19.00
02.06.2013 ob 19.00
03.06.2013 ob 19.00
04.06.2013 ob 21.00





Po vrnitvi iz psihiatrične ustanove se nekdanji učitelj Pat Solitano preseli nazaj k svojim staršem in poskuša vrniti nazaj svoje staro življenje. Stvari se še bolj zakomplicirajo, ko Pat spozna Tiffany, skrivnostno dekle s svojimi težavami.

Pat Solatano (Bradley Cooper) je izgubil vse – hišo, službo in ženo. Potem ko je osem mesecev po odredbi sodišča preždel v umobolnici, zdaj spet živi pri starših (Jacki Weaver, Robert De Niro). Odločen, da se spet normalno zaživi, ostane optimističen in se želi kljub ne ravno najlepšim okoliščinam njune odtujitve pobotati z ženo. Njegova starša si želita le, da se postavi na lastne noge – in skupaj z njima navdušeno navija za najljubšo filadelfijsko nogometno moštvo.
A ko Pat spozna skrivnostno Tiffany (Jennifer Lawrence), ki ima zvrhan koš lastnih težav, se zadeve zapletejo. Tiffany se ponudi, da Patu pomaga pobotati se z ženo, a le pod pogojem, da v zameno on stori nekaj pomembnega zanjo. Nenavadni dogovor med njima splete nepričakovano vez in obema v življenje vnese novo upanje…
The Weinstein Company predstavlja družinsko dramo, komedijo in romantični film Za dežjem posije sonce, ki jo je po romanu Matthewa Quicka in lastnem scenariju režiral David O. Russell. Igrajo Bradley Cooper, Jennifer Lawrence, Robert De Niro, Jackie Weaver, Anupam Kher, Chris Tucker, Julia Stiles, John Ortiz, Shea Whigham in Dash Mihok. Direktor fotografije je bil Masanobu Takayanagi, scenografinja Judy Beckeris, kostumogaf Mark Bridges in montažer Jay Cassidy. Producirali so Donna Gigliotti, Bruce Cohen in Jonathan Gordon, medtem ko so bili izvršni producentje Bob Weinstein, Harvey Weinstein, George Para, Michelle Raimo in Bradley Cooper.

O igralcih:

Bradley Cooper (Pat/izvršni producent), je nedavno zaključil snemanje neodvisne drame Serena, spet z Jennifer Lawrence, kmalu pa ga bomo videli v romantični drami The Words in The Place Beyond the Pines. Pred tem je nastopil v The Hangover Part II, doslej najbolj donosni komediji, ki ni primerna za mlajše od 17 let brez spremstva staršev, potem ko se je z neverjetnim zaslužkom ponašal že prvi film. Tretje nadaljevanje naj bi v kinematografe prišlo maja letos.
Cooper je ob Liamu Neesonu in Jessici Biel igral v akcijskem filmu The A-Team, v komediji Garryja Marshalla Valentine's Day ob Jimu Carreyju v filmu Yes Man režiserja Peytona Reeda in v skupinski romantični komediji He's Just Not That Into You.
Na velikih platnih je debitiral leta 2001 v kultnem filmu Davida Waina Wet Hot American Summer, nase pa je opozoril v komediji Wedding Crashers ob Vinceu Vaughnu in Owenu Wilsonu. Igral je v All About Steve, v katerem se za njegovega naslovnega junaka zanima Sandra Bullock: z Renée Zellweger je nastopil v grozljivki Case 39; v biografski drami The Prince of Providence igra ob Robinu Williamsu in Oliverju Plattu, v antologijskem filmu New York, I love You pa nastopa v zgodbi, ki jo je režiral Allen Hughes.
Dobro je znan tudi televizijskim gledalcem: nazadnje je nastopil v kritiško cenjeni seriji Nip/Tuck, igral je v Kitchen Confidential po dogodivščinah slovitega kuharja in pisatelja Anthonyja Bourdaina in v serijah Alias z Jennifer Garner, Jack & Bobby s Christine Lahti in Touching Evil bratov Hughes. Gostoval je tudi v serijah Law & Order: SVU, Law & Order: Trial by Jury in Sex and the City.
Je tudi gledališki igralec.

Robert De Niro (Pat Sr.) je svojo razvejano filmsko kariero začel v De Palmovem The Wedding Party leta 1969 in do leta 1973 dvakrat prejel nagrado za stransko vlogo newyorških kritikov za filma Bang the Drum Slowly in Scorsesejev Mean Streets. Že naslednje leto je za vlogo Vita Corleoneja v filmu The Godfather, Part II dobil oskarja, leta 1980 pa še enega s Scorsesejevim Raging Bull. V igri za zlati kipec je bil še s filmi Taxi Driver, The Deer Hunter, Awakenings in z novo verzijo srhljivke Cape Fear, sicer pa je tudi prejemnik posebnih nagrad (odličje Kennedyjevega centra, nagrada Stanleyja Kuricka, nagrada Cecila B. DeMilla…).
Trenutno pripravlja komedijo The Big Wedding, triler Red Lights, kriminalistično dramo Freelancers in akcijski triler The Killing Season, sicer pa smo ga videli v Being Flynn, Limitless, The Killer Elite, Little Fockers, Machete, Everybody's Fine, The Last Tycoon, 1900, Once Upon a Time in America, King of Comedy, New York, New York, Goodfellas, Casino, Brazil, The Mission, The Untouchables, Angel Heart, Jacknife, Stanley and Iri, We're No Angels, Backdraft, This Boy's Life, Mad Dog and Glory, Mary Shelley's Frankenstein, Sleepers, Wag the Dog, Marvin's Room, The Fan, Great Expectations, Jackie Brown, Analyze This, Analyze That, Flawless, City By The Sea, Shark's Tale, Meet The Parents, Meet the Fockers…
Zelo je ponosen na svojo produkcijsko hišo Tribeca Productions, ki jo je leta 1988 ustanovil z Jane Rosenthal, in na filmski festival v Tribeci (soseski na Manhattnu), ki ga je z Rosenthalovo in Craigom Hatkoffom spočel leta 2001 kot odgovor na napad na dvojčka World Trade Center.
Prek Tribeca Productions De Niro razvija projekte, pri katerih med drugim sodeluje kot producent, režiser in igralec: njegov režijski prvenec je bil A Bronx Tale, nato je igral v The Good Shepherd. Med drugimi naslovi v produkciji podjetja so še Thunderheart, Cape Fear, Mistress, Night and the City, The Night We Never Met, Faithful, Marvin's Room, Wag the Dog, Analyze This, Flawless, The Adventures of Rocky and Bullwinkle, Meet the Parents… ter serija Tribeca in miniserija o mafijcu Sammyju »The Bull« Gravanu.

Jennifer Lawrence (Tiffany) je ob Bradleyu Cooperju pred kratkim posnela film Seerena po romanu Rona Rahsa in v režiji oskarjevke Susanne Bier, pred tem pa igrala v The Hunger Games, House at The End of the Street, Like Crazy, X-Men: First Class, The Beaver Jodie Foster in v Winter's Bone, ki ji je poleg ostalih prinesla nagrado velike žirije v Sundanceu ter nominacije za oskarja, nagrado Ceha filmskih igralcev, zlati globus in Independent Spirit. Igrala je še v režijskem prvencu Guillerma Arriage The Burning Plain, v Poker House in v nanizanki The Bill Engvall Show.