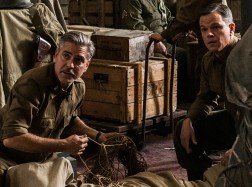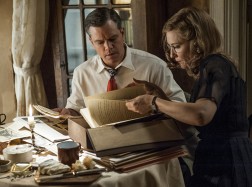 The Monuments Men, 2014, ZDA


Režija: George Clooney
Jezik: angleški

Igrajo: George Clooney, Matt Damon, Bill Murray, Cate Blanchett, John Goodman, Jean Dujardin, Hugh Bonneville, Bob Balaban, Diarmaid Murtagh, Sam Hazeldine, Alexandre Desplat

drama, 1h52min



28.3.2014 ob 20:30
29.3.2014 ob 20:30
30.3.2014 ob 20:30
31.3.2014 ob 18:00
1.4.2014 ob 18:00
2.4.2014 ob 18:00





Drama Varuhi zapuščine po resnični zgodbi o največjem lovu na umetnine se osredotoča na sedem ne več mladih in že nekoliko zakrnelih muzejskih upraviteljev, umetnikov, arhitektov, kuratorjev in umetnostnih zgodovinarjev, ki so se izpostavili v prvih vrstah fronte druge svetovne vojne, da bi iz rok nacističnih roparjev rešili svetovne umetnine in jih vrnili njihovim pravim lastnikom. Kako – glede na to, da so bile umetnine skrite onkraj sovražnikovih črt – so sploh lahko upali na uspeh? Pa vendar so v tekmi s časom, da zaustavijo uničenje tisočih let kulture in zaščitijo največje dosežke človeštva, Varuhi zapuščine tvegali lastna življenja.

Vojna drama, posneta po resničnih dogodkih iz 2. svetovne vojne, sledi skupini pogumnih mož, ki morajo obvarovati pomembne evropske umetnine in objekte pred vojnim uničenjem. Ko zavezniki prodirajo proti Berlinu, mora odločni ljubitelj umetnosti George izbrati skupino konservatorjev, kustosov, umetnikov, arhitektov in zgodovinarjev in jih popeljati v neposredno bližino bojne črte. Po napornem vojaškem treningu prispejo v Evropo, kjer jim pripadnica upornikov Rose pomaga najti ukradene umetnine. Toda varovanje umetniške zapuščine se za može, nevajene vojne, izkaže za smrtno nevarno opravilo.

Med pokradenimi umetninami je bilo več deset tisoč del Mojstrov: Michelangela, DaVincija, Rembrandta, Van Eycka…; ropanje in uničevanje cerkva, muzejev in spomenikov na obeh straneh je spodbodlo vodje umetniške srenje v ZDA, da so s podporo predsednika Franklina ustanovili Službo za varovanje in reševanje umetniških in zgodovinskih spomenikov po Evropi, iz katere so izšli Varuhi umetnin. »Njihovo zgodbo pozna malo ljudi,« pravi George Clooney, ki se s filmom vrača na režijski stolček. »Umetniki, prodajalci umetnin, arhitekti – moški, ki zaradi svojih let niso prišli v poštev, da jih vpokličejo na fronto ali da se celo javijo kot prostovoljci. A so se podali na to pustolovščino, saj so bili prepričani, da je kulturo mogoče uničiti. Če bi jim spodletelo, bi to lahko pomenilo pogubo šestih milijonov umetniških del. Tega niso nameravali dopustiti – in v resnici jim je uspelo.«

Film, v katerem igrajo Clooney, Matt Damon, Bill Murray, John Goodman, Jean Dujardin, Bob Balaban, Hugh Bonneville in Cate Blanchett, so domala docela posneli v Nemčiji; Clooney in Grant Heslov sta scenarij spisala po knjigi Roberta M. Edsela in Breta Witterja ter film producirala. Sodelovali so še direktor fotografije Phedon Papamichael, scenograf Jim Bissell, montažer Stephen Mirrione in kostumografinja Louise Frogley. Glasbo je zložil Alexandre Desplat.

O igralcih

George Clooney (Frank Stokes / režiser / producent / soscenarist) trenutno snema Tomorrowland, nazadnje pa smo ga videli ob Sandri Bullock v uspešnici Gravity. S partnerjem v podjetju Smokehouse Grantom Heslovom je produciral novo dramo August: Osage County in prejel oskarja, bafto, zlati globus in nagrado Ceha ameriških producentov za triler Argo. S scenarijem za The Ides of March (ki ga je tudi režiral, produciral in v njem igral) se je potegoval za oskarja, zlati globus in nagrado Ceha ameriških scenaristov, pred tem pa mu je kup nagrad in nominacij prinesel Good Night, and Good Luck. Kot režiser je debitiral s Confessions of a Dangerous Mind, podjetje Smokehuse pa je krstil z Leatherheads in The Men Who Stare at Goats. Pred tem je s Stevenom Soderberghom prek Section Eight produciral trilogijo Ocean's, Michael Clayton, Syriana, Good Night, and Good Luck, The Informant!, The Good German, Insomnia, Far From Heaven, The Jacket, Full Frontal… resničnostno serijo Unscripted in nanizanko K Street. Kot igralec je prejel kopico nagrad in nominacij za filme Syriana (oskar, zlati globus), nominacije za oskarja za Michael Clayton, Up in the Air in The Descendants… Igral je v Burn After Reading, O Brother, Where Art Thou?, Intolerable Cruelty, Solaris, Out of Sight; The Perfect Storm, The Peacemaker, Batman & Robin, One Fine Day, From Dusk Till Dawn.. z malih zaslonov pa je najbolj znan iz serije ER.

Matt Damon (James Granger) pravkar igra v zf uspešnici Elysium in se je z vlogo v Soderberghovem TV filmu Behind the Candelabra potegoval za emmyja, nagrado Ceha filmskih igralcev in zlati globus. S Soderberghom je pred tem posnel The Informant!, Contagion, Che in trilogijo Ocean's. Za oskarja se je potegoval v Eastwoodovi drami Invictus, ga dobil (poleg zlatega globusa) za vlogo v drami Good Will Hunting in za scenarij za taisti film. Z vlogami v The Informant! in The Talented Mr. Ripley se je potegoval za zlati globus. Igral je še v The Bourne Identity, The Bourne Supremacy, The Bourne Ultimatum, We Bought a Zoo, The Adjustment Bureau, True Grit, The Good Shepherd, The Departed, Syriana, The Brothers Grimm, Dogma, Saving Private Ryan, The Rainmaker, Chasing Amy…

Bill Murray (Richard Campbell) se je nazadnje za vlogo Franklina Delana Roosevelta v Hyde Park on Hudson potegoval za zlati globus; pred tem smo ga videli v Moonrise Kingdom Wesa Andersona, s katerim je posnel še The Royal Tenenbaums, The Life Aquatic with Steve Zissou, The Darjeeling Limited, Fantastic Mr. Fox, Rushmore in prihajajoči The Grand Budapest Hotel. Kariero je začel v improvizacijski skupini in nato pri Saturday Night Live tudi kot scenarist. Na velikih platnih je debitiral v Meatballs in nadaljeval v Stripes, franšizi Ghostbuster, Caddyshack, Groundhog Day, Tootsie, Ed Wood, Cradle Will Rock, Lost in Translation (zlati globus, bafta, nominaciji za oskarja in nagrado Ceha filmskih igralcev), Coffee and Cigarette, Broken Flowers…

John Goodman (Walter Garfield) je nazadnje igral v Argo, Trouble with the Curve, Flight, Inside Llewyn Davis, The Artist in Extremely Loud and Incredibly Closer ter glas posodil liku v risanki Monsters University. Igral je še v In the Electric Mist, Beyond the Sea, O Brother, Where Art Thou?, Blues Brothers 2000, The Flintstones, Always, The Babe, Everybody's All-American, Sea of Love, The Big Lebowski, Barton Fink (nominacija za zlati globus)… Glas je posodil risankam, kot so Monsters, Inc., The Emperor's New Groove, Tales of the Rat Fink in The Jungle Book II. Na TV smo ga med rugim videli v serijah Damages, Treme in Community, sicer pa se je uveljavil prav na malih zaslonih v humoristični nanizanki Roseanne, za vlogo v kateri je prejel zlati globus in se sedemkrat potegoval za emmyja; kipec je dobil kot gost v Studio 60 on the Sunset Strip.

Jean Dujardin (Jean Claude Clermont) je mednarodno javnost nase opozoril v s petimi oskarji okinčani umetnini The Artist, ki mu je med drugim prinesla oskarja, zlati globus, bafto in nagrado Ceha filmskih igralcev. Kariero je začel v improvizacijski skupini Nous C Nous in nato dobil glavno vlogo v humoristični nanizanki Un gars, une fille. Po stranskih vlogah v filmih Mariages! in Le Convoyeur je dobil glavno vlogo v Brice de Nice; sledili so OSS 117: Le Caire, nid d'espions (za vlogo, ki jo je ponovil v nadaljevanju OSS 117: Rio ne répond plus, je bil v igri za cesarja), 99 francs, Un homme et son chien, Lucky Luke, Les petits mouchoirs… Nazadnje je igral v Scorsesejevem The Wolf of Wall Street.

Hugh Bonneville (Donald Jeffries) izhaja iz gledališča, v zadnjem času pa je znan tudi TV gledalcem po vlogah v serijah in filmih, kot so The Cazalets, Take a Girl Like You, Armadillo, Daniel Deronda, The Commander, The Gathering Storm, Love Again, The Vicar of Dibley, Diary of a Nobody, Tsunami: The Aftermath, Miss Austen Regrets, Doctor Who.. . Z vlogo v Twenty Twelve se je potegoval za bafto, z vlogo v Downton Abbey za zlati globus in dva emmyja. Na velikih platnih je debitiral v Mary Shelley's Frankenstein Kennetha Branagha in zatem igral v Notting Hill, Mansfield Park, Stage Beauty, Asylum, Scenes of a Sexual Nature, Man to Man, From Time to Time, Glorious 39, Burke & Hare, Third Star, Shanghai… Dobil je nagrado za novinca v Berlinu in bafto za vlogo v Iris in nagrado v Monte Carlu za French Film. Nedavno je končal snemanje otroške serije za BBC Paddington Bear. Za BBC kot producent po scenariju Aschlina Ditte razvija svoj prvi celovečerec po avtobiografiji novinarja Byrona Rogersa.

Cate Blanchett (Claire Simone) je za vlogo Katharine Hepburn v Scorsesejevem The Aviator prejela oskarja, bafto in nagrado Ceha filmskih igralcev, pred tem pa se je v istem letu potegovala za dva oskarja (Elizabeth: The Golden Age in I'm Not There). Za kipec je bila v igri prvič v filmu Elizabeth (osvojila je bafto in zlati globus). Za več nagrad se je potegovala še z Notes on a Scandal, Veronica Guerin Bandits in The Talented Mr. Ripley. Nazadnje smo jo videli v Allenovem Blue Jasmine in v trilogiji The Hobbit v vlogi, ki jo ponavlja iz trilogije The Lord of the Rings. Snema že Knight of Cups in posoja glas liku v risanki How to Train Your Dragon 2. Igrala je še v Robin Hood, The Curious Case of Benjamin Button, Indiana Jones and the Kingdom of the Crystal Skull, The Good German, Babel, Coffee and Cigarettes, The Missing, The Shipping News, An Ideal Husband, Oscar and Lucinda…

O ustvarjalcih

George Clooney (režiser / / producent / soscenarist) – glej zgoraj.

Grant Heslov (soscenarist / producent) se je štirikrat potegoval za oskarja: za prirejeni scenarij za The Ides of March, kot producent in scenarist za Good Night, and Good Luck, in kot producent za Argo, za katerega je kipec tudi dobil. Kot režiser je debitiral z The Men Who Stare at Goats, produciral pa je še komedijo Leatherheads in triler The American. Za TV je produciral serijo Memphis Beat, produciral in režiral resničnostno serijo Unscripted in izvršno produciral serijo K Street. S Clooneyjem je začel sodelovati pri Intolerable Cruelty, nazadnje pa sta skupaj producirala August: Osage County.

Robert M. Edsel (avtor knjižne predloge) je med najbolje prodajanimi avtorji s knjigami, kot so Rescuing Da Vinci, The Monuments Men: Allied Heroes, Nazi Thieves and the Greatest Treasure Hunt in History in Saving Italy: The Race to Rescue a Nation's Treasures from the Nazis. Koproduciral je dokumentarec The Rape of Europa.